A&E Testing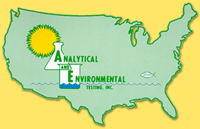 Challenge:  Analytical & Environmental Testing's in-house LIMS was no longer robust enough to handle the new era of laboratory management. As the laboratory grew, it became painstakingly obvious that the LIMS had to grow too. The stringent customer demands and rigorous regulatory requirements of their industry could not be met and the lab could no longer afford to continue with their in-house system.
Solution:  Analytical & Environmental Testing selected the Omega LIMS to replace their existing in-house LIMS. The decision was based on ease-of-use, cost, and support.
Benefit:  Analytical & Environmental Testing was able to easily transition from the in-house system due to the configurability structure of Omega LIMS, which helped the company reduce its expenditures on in-house programmers. Many laboratory processes were automated, instruments were integrated with the LIMS for electronic data capture, and quality management protocols were streamlined with the new system. Additionally, the web portal module, FlashPoint, provided their clients the ability to view real time work order status, obtain both preliminary and final reports, and access historical data, which significantly increased client satisfaction.